Read the December 2022 Newsletter from the Delaware Valley Veterans Consortium to stay informed about events and issues happening in the area.
Do you have news to share or upcoming events for the January 2023 newsletter and beyond? Please share!
This newsletter is published monthly as part of DVVC's efforts to connect, collaborate, and communicate in service to Veterans throughout our region. Send your updates and questions to dvvcinfo@gmail.com.
Member Organizations: To submit articles to the newsletter, please email Fern.Billet@va.gov by the 25th of the month with your news. To submit news to DVVC social media sites, please email Lynne Williams at Director@greatcareersphl.org with "For DVVC Social Media" in the subject line.
---
News from the Executive Committee
I hope that everyone had a wonderful Thanksgiving with family and friends. It's important to remind ourselves that we have much to be thankful for despite the chaos and confusion in our world these days.

I would also like to acknowledge Veterans Day; as always, it is wonderful to recognize the sacrifices of our nation's Veterans and, for some of us, our comrades-in-arms, but even though it is not Memorial Day (I still find people and communities who confuse Veterans Day and Memorial Day,) it is painful to remember those who have made the ultimate sacrifice and are no longer with us.

I saw quite a few of you at the Philadelphia Veterans Parade on Nov 6; DVVC and a few member organizations were present at the expo, and I would encourage more of your organizations to have tables at the expo next year. A special thank you to Ashley and her partner for being at the table through both rain and wind. DVVC did have a get-together afterward even though our planned venue was closed, but we adjusted quickly and had a small group of people to share drinks and appetizers.

I am excited about 2023! Our January 20, 2023, meeting will be a planning session for the coming year. This planning session has been a fixture on our calendar now for the past two years, and it's your opportunity to impact our events over the next 12 months. Because of COVID, we expanded our offerings from the pre-pandemic normal of once a quarter to double that, with our Town Halls covering topical and time-sensitive issues. We will continue to do that in 2023. We are continuing to assess whether we should go to in-person meetings, but the consensus of the Executive Committee is that virtual meetings allow for the most participation across a much wider geographic area; our Blue Star Families Town Hall had participants from across the country, and we aspire to be a leader in the CVEB community by bringing other CVEBs to gather to Communicate, Collaborate, and Coordinate on a larger-than-local level. The new normal will at least be virtual with the possibility of hybrid (in-person combined with a virtual component).

Finally, I want to say thank you to all of you; we are unique in the CVEB community in that we focus on you, our members, to enable you to serve the Veterans and military community in the Delaware Valley. Thank you for the support you give to DVVC, but more importantly, thank you for the work you do to make the lives of Veterans, service members, caregivers, survivors, and their families better every day. The work you do has an impact, and while we strive to collectively make positive changes, never forget that we do that through individual interactions. The work you do makes individuals' lives better and thereby strengthens the community. That is critical work, and thank you for that.

I hope that everyone has a wonderful holiday season. I am amazed that it has snuck up on us so quickly (but it does that every year for me).
I wish for peace and happiness for you, your families, and the communities you serve.
Here's to a productive 2022 and an even more impactful 2023!!!
Hugo Lentze
DVVC Chairman
---
Upcoming Events

*SAVE THE DATE – DVVC Quarterly Meeting – January 20, 2023*
Hybrid Meeting-virtual and in-person at St. Joseph's University, Mandeville Hall, 54th & City Line Avenue.
Annual DVVC planning meeting. More details to come.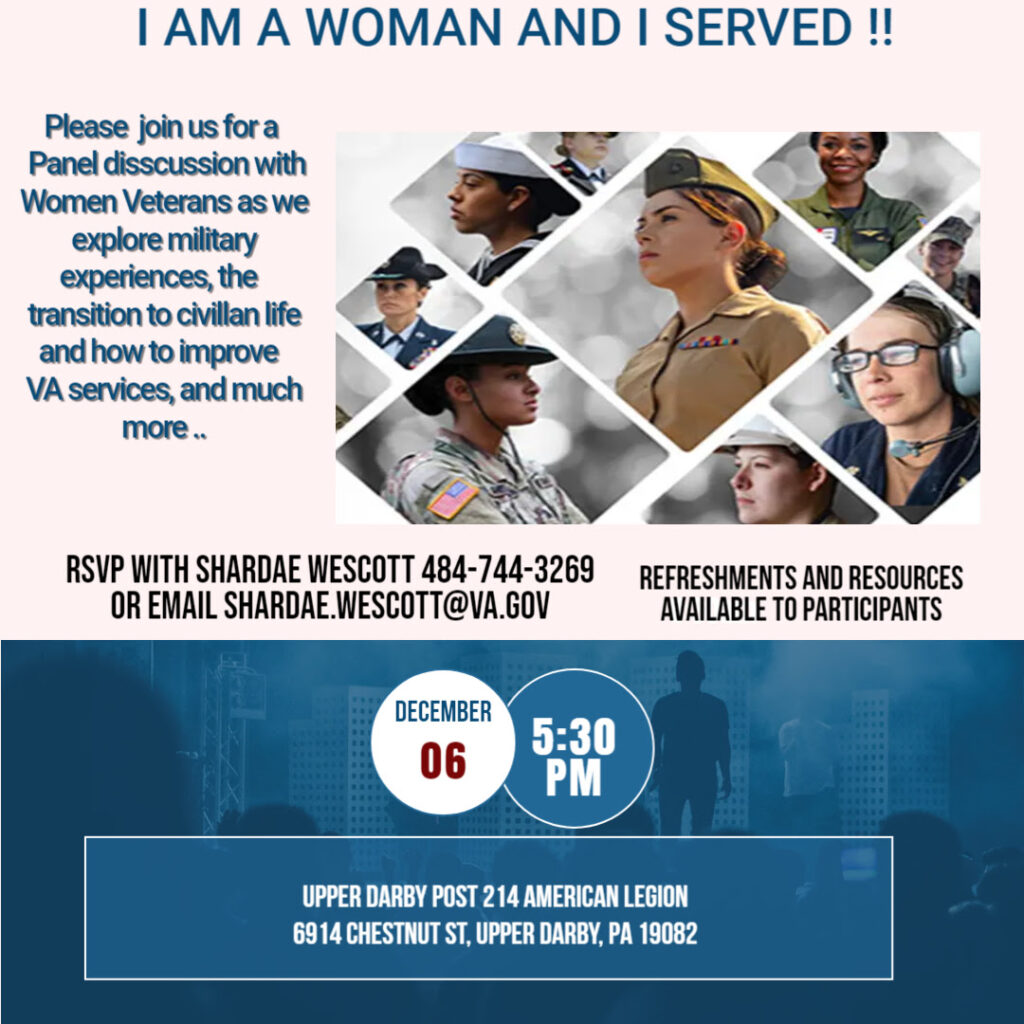 For Women Veterans – "I Am a Woman, and I Served"
Please join us for a panel discussion with Women Veterans as we explore military experiences, the transition to civilian life, how to improve VA services, and much more!

Tuesday, December 6, 5:30 pm, Upper Darby Post 214 American Legion, 6914 Chestnut Street, Upper Darby, PA
Refreshments and Resources are available to participants. RSVP to Shardae Wescott, 484-744-3269 or Shardae.Westcott@va.gov

Wreaths Across America Convoy Stop at Delaware County Veterans Memorial
Please join us in welcoming the 55-vehicle convoy as they make their way to Arlington National Cemetery.

Thursday, December 15, 9 am, Delaware County Veterans Memorial, 4599 West Chester Pike, Newtown Square, PA
For more information, volunteer opportunities or to learn more about how your organization can support this inspiring event, contact info@delcoveteransmemorial.com
---
News & Announcements

TBI Resource Guide for Veterans
A few years ago, Nancy Isserman, DVVC Vice-Chair, participated in a task force to create a guide on Traumatic Brain Injury (TBI) resources for Veterans in Pennsylvania, representing both DVVC and her employer, Council for Relationships. The task force met to discuss what resources are available and to share their knowledge of useful information for the guide. Nancy contributed information about the directory of member organizations on the DVVC website, www.dvvc.org/directory recognizing the importance of linking the websites of over 140 DVVC member organizations in a searchable database as part of the resource guide.
The guide is now available to the public, service providers, and Veterans with TBI. It is posted on the DVVC website here: What We Do – DELAWARE VALLEY VETERANS CONSORTIUM (dvvc.org)
---
Where To Get "One-Stop Shop" Assistance After A Natural Disaster
Did you know there is a "one-stop shop" for Veterans seeking assistance after an emergency or natural disaster?

DisasterAssistance.gov is a site that can deliver 70 forms of assistance from 17 federal agencies. There, users can apply for disaster assistance, check their application status, identify FEMA Disaster Recovery Center (DRC), find housing assistance, and more.

Veterans can find information on replacing lost or destroyed medical equipment, service animal, benefits, caregiver support, housing, debt management, and replacing service records. To locate Veterans' information on the site, go to the "Information" pull-down menu and select "Veterans." The information is available in both English and Español.

VA may also place mobile support vehicles and stage Public Contact Teams in recovery areas to offer easy access to its services. Resources can include identifying Veteran status, evaluating available benefits – including medical and prescription – and assisting with housing case management.

Call or visit your local VA Medical Center or Community Resource and Referral Center if you are homeless or at imminent risk of becoming homeless. Resources can be found on the link below or call the hotline.
• https://www.va.gov/homeless/
• 1-877-4AID-VET (1-877-424-3838).

If you are a Veteran in crisis or concerned about one – free, confidential support is available 24 hours a day, 7 days a week. The Veterans Crisis Line is available by phone, text or chat:
• Call 988 and Press 1.
• Send a text to 838255.
• https://www.veteranscrisisline.net/get-help/chat
• Support for deaf and hard of hearing: Call 1-800-799-4889.

The best way to protect you and your family is to stay informed with local forecasts, have a preparedness plan, and heed guidance from local emergency management officials. Stay safe!
---
Team Foster is looking for an Outreach Program Coordinator
The Outreach Program Coordinator researches, identifies, and forms partnerships with Veteran Services Organizations (VSOs) that align with Team Foster's mission to provide for the unmet needs of veterans and their service dogs, and recommends VSOs to the Grants Director for funding for services currently not provided to Veterans. In pursuit of this goal, the coordinator also acts as liaison to the VSOs identified for referral of TF clients.

The coordinator works directly with veterans to identify unmet emotional, mental and physical needs, to refer veterans to appropriate VSOs for additional services, and to make recommendations for specific services from TF, such as direct grants and support/coaching. The coordinator will collect and analyze data from the program to assist in developing additional TF outreach services. The coordinator researches grants and other funding sources relevant to the outreach mission.

The data collected by the coordinator will contribute to Team Foster's knowledge of:
Effects of disability on veterans.
Emotional, mental, and physical health needs of veterans with disabilities.
Educational needs for veterans transitioning to a civilian world.
Mentorship and peer support needs often lacking for veterans.
Service dog support needs for veterans, which service dog organizations typically do not offer after initial placement.

Candidates with a background in social services, casework, veteran services, and non-profit experience are preferred.
Candidates should have a working knowledge of Salesforce and the Microsoft suite, including Teams.
Any interested parties can email their resume to us@TeamFoster.org.
---

Career Support Available from Great Careers Groups

Join in on the adult career online education topics and networking in December 2022 at the Great Careers Groups (GCG). Visit the EVENTS page to register for our Zoom events. Connect on social media and subscribe to our weekly newsletter.

Thurs Dec 1 – Career Clarity & Purpose All Day Summit with 14 Career Experts
Thurs Dec 1 – LGBTQ+ OUTstanding Careers Group
Fri Dec 2 – Interview Techniques
Sat Dec 3 – 2023 Content Strategy: Monetize & Land Clients by Multi-Platform Expansion
Mon Dec 5 – Career Success Group Job Search Accountability & Networking
Mon Dec 5 – Virtual Job Seeker Support Group
Tues Dec 6 – Tips to Optimize Your LinkedIn Profile
Wed Dec 7 – PowerThinking: Rejuvenating Your Amazing Mind Weekly Resilience Building Call-In
Wed Dec 7 – Overcoming Age Discrimination
Thurs Dec 8 – Career Success Group Job Search Accountability & Networking
Fri Dec 9 – The EVOLVING Employment Model! Managing Your Career in the Rapidly Changing Economy
Tues Dec 13 – Career Pivoting: 15 Dos and Don'ts
Tues Dec 13 – Business Executives Networking Group (BENG) Chester County
Wed Dec 14 – PowerThinking: Rejuvenating Your Amazing Mind Weekly Resilience Building Call-In
Wed Dec 14 – Leveraging Your MBTI Type to Manage Stress
Thurs Dec 15 – Recruiter on Call with Jobs
Thurs Dec 15 – LGBTQ+ OUTstanding Careers Group
Thurs Dec 15th – How to Develop Successful Job Search Strategies
Fri Dec 16 – Interview Techniques
Sat Dec 17 – LinkedIn Part 1 of 3
Mon Dec 19 – Career Success Group Job Search Accountability & Networking
Mon Dec 19 – Tips to Optimize Your Resume
Tues Dec 20 – How to Use LinkedIn for Your Job Search
Tues Dec 20 – Business Executives Networking Group (BENG) Lehigh Valley
Wed Dec 21 – PowerThinking: Rejuvenating Your Amazing Mind Weekly Resilience Building Call-In
Wed Dec 21 – Business Executives Networking Group (BENG) Charlotte, NC
Thurs Dec 22 – Career Success Group Job Search Accountability & Networking
Wed Dec 28 – PowerThinking: Rejuvenating Your Amazing Mind Weekly Resilience Building Call-In

Any GCG meeting with a $5 fee is free for unemployed veterans by arranging in advance that you want to attend – director@greatcareersphl.org.
---
VA News

Have an appointment at VA? Check-in with Your Phone
Smartphone check-in is now available at most VA health facilities.
Here are easy instructions on how smartphone check-in works.

The PACT Act and your VA Benefits
The PACT Act is a new law that expands VA health care and benefits for Veterans exposed to burn pits, Agent Orange, and other toxic substances. This law helps us provide generations of Veterans – and their survivors – with the care and benefits they've earned and deserve.
Visit www.va.gov/PACT to get answers to your questions about what the PACT Act means for you or your loved ones.

New Toxic Exposure Screening for Veterans – Get to Know the Process
It's important to have a long-term health care plan. The new toxic exposure screening can help you plan with your VA health care team.
If you're enrolled in VA health care, you can now receive the toxic exposure screening at VA medical centers and clinics across the country.
Get the Facts

Latest news from VISN 4 – Vision for Excellence, Issue 32
We are pleased to share the latest issue of Vision for Excellence.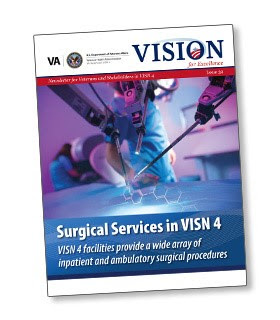 In this issue, we spotlight the wide array of inpatient and ambulatory surgical procedures available in VISN 4, and in particular, our bariatric surgery program in Pittsburgh and the newly accredited program in Wilkes-Barre.

We also provide an update on the construction of a new outpatient clinic in Monroeville, Pa. and feature our most recent ICARE awardee.

VA Healthcare – VISN 4 is a fully integrated network of 9 VA campuses, 44 outpatient clinics, 1 mobile clinic, and 17 vet centers covering 83 counties in Pennsylvania and Delaware and parts of Ohio, West Virginia, New York, and New Jersey.

In the fiscal year 2021, VISN 4 served 319,939 Veterans from across the Nation. With an operating budget of more than $2.9 billion and a staff of 16,072, VISN 4 is working hard to transform toward personalized, proactive, patient-driven health care.