News from the Executive Committee!
Read the comments from Fern Billet at the end of this newsletter, but first, a word about the challenging and rapidly changing current situation, which we are all monitoring with concern.
Recent news has been difficult and painful for all of us, especially for the Veterans of the Global War on Terrorism and their families and caregivers.
Our DVVC member organizations are committed to helping people in the veteran community. We appreciate the service and dedication of our Military, our Veterans, and their families. Attached to the end of this newsletter are some resources to share with them, as well as some ways to help Afghans.
DVVC member organizations are urged to provide updates on resources and activities supporting Veterans or allied refugees via our Facebook page www.facebook.com/dvvcorg
DVVC thanks you for anything you can do to support these efforts. Let us know how to help.
---
Mark your calendars: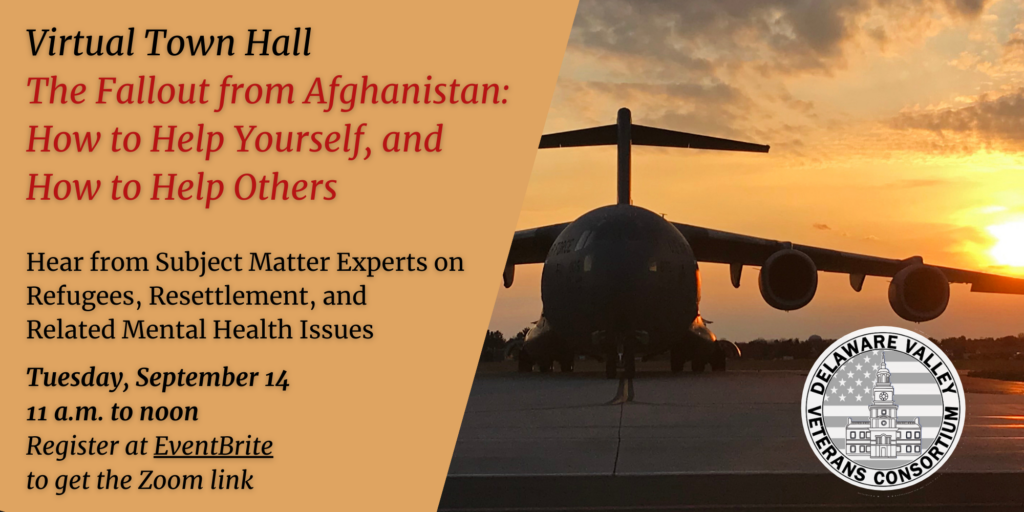 DVVC Virtual Town Hall
To provide the latest information and to answer questions from our community, DVVC will host a Virtual Town Hall on Tuesday, September 14, 11 a.m. to noon.
Register here to get the Zoom link provided via email.
All are welcome to attend.
---
DVVC Fall 2021 Quarterly Meeting
Watch for an announcement for the Fall meeting, slated for Friday, October 15 via Zoom, when we will present an update on Complementary and Alternative Medical Programs for Veterans.
Also, our Fall meetings always include ELECTIONS! We are seeking interest now for three positions: Vice-Chair and two Member-At-Large positions. Nancy Isserman, current Vice-Chair, and Norm Glover, a Member-At-Large, are seeking reelection; one Member-At-Large position is vacant. If you would like to run for any of these positions, please send a short biography and a statement about why you want to run to dvvcinfo@gmail.com.
---
DVVC Seeking a Digital Communication Intern
To help maintain and improve the new website (dvvc.org), as well as the newsletter and our social media outlets, DVVC is seeking a Digital Communication Intern. The position is open to students and mid-career jobseekers, especially Veterans. This is a term position, designed to be three to six months long, but with extensions possible. DVVC is hoping to on-board the intern in September. DVVC Member Organization representatives are asked to spread the word!
This is an excellent opportunity for an individual who is between jobs, or currently under-employed, to gain additional experience and keep skills fresh, especially in the critical area of social media. The intern will also have great opportunities for networking within the regional Veteran community. Estimated time commitment: 2 to 5 hours per week. Unpaid.
Please share with anyone who may be interested. Send resume and cover letter to mo_gillen@yahoo.com; include general availability or preferred work schedule.
---
NEWS FROM OUR MEMBER ORGANIZATIONS
Philadelphia Area Great Careers Group Busy Supporting Veterans in September!
LinkedIn, Clubhouse, Interviewing, Job Search Tips, & more coming up this month! Here is a small sampling of career education and networking events from Philadelphia Area Great Careers Group. Any meeting with a $5 fee is free for unemployed Veterans by arranging with Lynne in advance that you want to attend – director@greatcareersphl.org.
Fridays –

Interviewing Techniques

with Les Segarnick – 9 – 11 a.m.
Fridays on Clubhouse –

Job Seeker Power Hour

with Lynne Williams – 11 a.m. – 12 p.m.
9/7 –

Job Search Strategy Assessment & Planning

with Joe Jones – 9 – 11 a.m.
9/9 –

5 Ways to Beat the Odds with Search Firms & Job Boards

with Amy Geffen – 9 – 11 a.m.
9/13 –

Ten Steps to Getting Hired

with Dr. Scott Dell – 9 -11 a.m.
9/14 –

The Secret to Working with a Recruiter

with Melanie Mitchell-Wexler – 9 – 11 a.m.
9/23 –

Goal Setting Workshop

with Michelle Davis-Govan (USMC veteran) – 6 – 8 p.m.
9/27 – H

ow to Navigate Intergenerational Communication Barriers During the Interview Process

with Kamber Parker – 6 – 8 p.m.
9/28 – Put Your Dream to the Test with Cherryann Joseph (Colonel, USAR) – 9 – 11 a.m.
See the complete list, and registration links, at https://greatcareersphl.org/events.
---
Veterans Multi-Service Center Offers Training
VMC has openings in the HVRP Employment & Training Program for Veterans who are homeless, or at risk of homelessness; unemployed or underemployed; and honorably discharged or released under conditions other than dishonorable. The program offers employment assistance, resume building, and interview skills, plus certifications such as forklift and ServSafe (food service).
For information, contact Joseph Mikolaitis, Joseph.Mikolaitis@VMCenter.org, or (267) 666-7304, or Francis Bilbao, Francis.Bilbao@VMCenter.org, or (267) 666-7245.
---
The Steven A. Cohen Military Family Clinic Celebrating Five Years
Veteran and military families are invited to celebrate the 5th anniversary of the Cohen Clinic on Saturday, September 18, at the Smith Memorial Playground. The free birthday bash includes hands-on activities, free food and drink, giant Jenga, corn hole, and other lawn games, music by DJ Muve, and more! Pre-register to get event updates and to reserve a spot – space is limited!
---
Team River Runner Looks Forward to Autumn
The dog days of summer are winding down which means Fall paddling is coming up. Autumn months are some of the best for boating as creek and river levels begin returning to normal and foliage colors start appearing. An Introduction to Whitewater Kayaking clinic is scheduled on two consecutive Sundays in September for TRR beginners or those who want a refresher.
9/5 – Season-Close Lehigh Trip – 9 a.m. – 4 p.m. – White Haven, PA – Grand finale Whitewater trip! Difficulty/Class: II/III; RSVP by 9/3 to Jim.Riley@TeamRiverRunner.org
9/12 & 9/19 – Intro to Whitewater Kayaking – 9 a.m. – 4 p.m. – Brandywine/Schuylkill or Muddy Creek. River kayaking: wet exit, strokes, basic river reading, and maneuvering; part II includes rescue. Difficulty/Class: I/II; RSVP by 9/10 to Jim.Riley@TeamRiverRunner.org
9/15 – VI Adaptive Paddling – 9:30 a.m. – 2 p.m. – Philadelphia Canoe Club – Basics of adaptive kayaking geared toward blind and visually impaired individuals. Difficulty/Class: I; RSVP by 9/13 to Jim.Riley@TeamRiverRunner.org (also offered on 9/29)
Lots more planned into October. Plus, impromptu paddling trips sometimes pop up when weather and river conditions are just right! Check TRR calendar and Facebook page for notifications. TRR Southeast PA website calendar all the info on the trips listed here. Upon RSVP, you will be asked to complete an on-line liability waiver prior to attending an event.
---
Team Red, White, and Blue Planning Patriotic Events
Fall can be a powerful and impactful season for our military community. This year is no exception with the 20th anniversary of September 11, 2001, approaching. Looking forward to Veterans Day, there are many opportunities for RWB "Eagles" to experience all that Team RWB has to offer, through local chapters or virtually, from September 11 – November 11, including:
Team RWB's 9/11 Moving Tribute will pay tribute to the lives lost on September 11, 2001, and support the Veterans who served in the wars following.

Chapter Event: Download and visit the Team RWB App to see if there's an event taking place near you on 9/11. Don't forget to register here for exclusive swag.

Virtual: Register as an individual or join a team and select a time slot to take steps and pay tribute wherever you are.

As part of Team RWB's Old Glory Relay, Veterans and supporters are running, walking, and hiking side by side from September 11 through November 11 to carry an American flag from New York to Georgia in honor of our nation's Veterans.

In-person: Register to run a portion of the Old Glory Relay route September 11 – November 11 in NY, NJ, PA, MD, Washington DC, VA, NC, AL, or GA.

Shadow runs: Visit the "Local Events" tab in the Team RWB App to see if there's an Old Glory Relay event near you.

Virtual: Register as a virtual participant and run, walk, or ruck the flag wherever you are during the 62-day trek between September 11 and November 11 in spirit alongside Eagle Nation.
---
Chapel of Four Chaplains Recognizing September 11 with Bells and Events
The Chapel of Four Chaplains will host a Special 20th Anniversary Patriots Day Event, honoring Chaplains who served at Ground Zero. Special Guest: Armed Forces Heritage Museum Mobile Education Center! Some additional events may be added on Sunday; stay tuned!
Friday, September 10

8:30 a.m. – Flag Placement in memory of the 3,000 people who perished on 9/11. Volunteers are needed.

6:00 – 7:30 p.m. – "Chaplains in Times of Crisis" – presentation about Chaplains serving in times of crisis. The Chapel will also be open for tours.

Saturday, September 11

8:46 a.m. – Bell will ring to mark a moment of silence followed by a short prayer to remember those who died in the North Tower of the World Trade Center and passengers on American Airline Flight 11.

9:03 a.m. – Bell, moment of silence, and prayer to remember those who died in the South Tower of the World Trade Center and passengers on United Airlines Flight 175.

9:37 a.m. – Bell, moment of silence, and prayer to remember those who died in the Pentagon and passengers on American Airlines Flight 77.

10:00 – 11:00 a.m. – "Patriots Day Service: Remembering Chaplains who served at Ground Zero."

10:03 a.m. – Bell, moment of silence, and prayer to remember those who died when United Airlines Flight 93 crashed in Shanksville, PA.

11:00 a.m. – A Special "Patriots Day" commemorative brick will be added to the "Lost at Sea" memorial along with other heroes.

11:30 a.m. – 3:00 p.m. – "A Taste of Philly" – Join the Chapel staff for some free food and fellowship under the large outdoor tent.
Ring a Bell for the Rosies, too! Monday, September 6, noon to 1 p.m.
Join the Chapel of Four Chaplains as they participate again with the "Thanks. Plain and Simple!" organization, joining people across the nation in ringing a bell at 1 p.m. to honor the Rosies of WWII. Special guest will be June Robbins, who worked as a "Rosie" on the Navy Yard.
---
UPDATE FROM NEW JERSEY
Congressman Kim and Others Seeking Applicants for Veteran Fellowship
Congressman Andy Kim's office is hiring a wounded warrior or medically retired veteran for a two-year paid fellowship in either the Toms River or Willingboro district office. Fellows are full-time House employees and may be assigned tasks like any other Congressional staffer. This is a great chance to serve Veterans in the community while embedded in a Congressional office.
Applicants must meet all the following requirements: Honorable Discharge, released from active duty within the last five years, terminal pay grade at or below E-5 or O-3, 20% or greater service-connected disabilities (waived for Purple Heart).
Veterans interested in this position – or in positions that may be available in Pennsylvania – can visit https://cao.house.gov/wounded-warrior to apply. Applications due by SEP 30.
---
This newsletter serves DVVC member organizations by providing information to share with Veterans. Member organizations can also use our LinkedIn group, https://www.linkedin.com/groups/12177627/ and Facebook page, www.facebook.com/dvvcorg, to get the word out!
Let us know how we can help!

Do you have news to share or upcoming events? Send an email to the editor, Mo Gillen, at mo_gillen@yahoo.com by the 25th of the month. Send DVVC questions to dvvcinfo@gmail.com

---
News from the Executive Committee September 2021
As I am writing this, summer is winding down, but definitely not over yet. Kids are getting ready to go back to school, we are looking forward to the changing of the seasons, and your DVVC Executive Committee is at work planning for our fall quarterly meeting. Scheduled for October 15, the meeting will focus on whole health, and complementary and alternative therapies for Veterans, a field that continues to expand and offer a variety of different routes to a happier, less stressed life, because when it comes to adjusting back to civilian life, one size does not fit all. I hope you will join us for this informative program to be presented virtually.
There was a moment a few weeks ago when it looked like things were starting to open back up safely, that vaccines were making an impact and reducing the number of Covid cases, and there was talk of returning to in-person meetings. But the Delta variant changed all that.
Here at the Crescenz VA Medical Center we have continued to run a walk-in vaccination clinic, providing vaccines to Veterans, regardless of their enrollment in VA health care, their spouses, and caregivers. Each day more people are vaccinated, and VA Secretary McDonough is moving closer to requiring that all VA employees must be vaccinated, ensuring that we provide a safe health care environment for our Veterans and a safe workplace for employees.
Based on CDC guidance, we have started offering third doses of the vaccine to Veterans and spouses who are severely immunocompromised. If you believe you are eligible for a third vaccine based on the CDC guidelines, there is no appointment necessary – just walk in and come to the 3rd floor of the medical center to our vaccination clinic. As CDC guidance expands regarding third vaccines for the rest of us who have already received the first two vaccines, I will share that information. As always, masks must be worn in every VA facility.
I understand that the news and photos from Afghanistan can be very difficult for Veterans of all ages, and I want to remind everyone that VA and many of our member organizations offer services to Veterans who need to talk and address the thoughts and memories that the news and images are producing. Please reach out to either the VA medical center, Vet Center, or one of our member organizations that provide counseling services.
As a non-Veteran it is my honor and privilege to work with and for Veterans. I am proud of what DVVC has accomplished and look forward to the continued growth of the organization. And guess what—now is a great time to get more involved! Elections for three positions on the DVVC Executive Committee (Vice-chair and two Member-at-large positions) will take place at the October meeting. It's a great group to be a part of, and if you are interested, please send your name, a one paragraph bio and either a resume or link to your LinkedIn profile page, along with a short statement of why you want to join the DVVC Executive Committee ASAP! Ballots will be emailed to the membership on September 15.
Enjoy the rest of the summer, stay safe and healthy, and think about getting more involved in DVVC!
Fern Billet
Congressional Liaison and Community Relations
Corporal Michael J. Crescenz VA Medical Center
3900 Woodland Ave.
Philadelphia, PA
---
Resources to Share – Helping Veterans, and Helping Veterans to Help Afghans
If Veterans you know are experiencing problems, here are some resources to share with them:
Here are some local DVVC member organizations that can help with counseling services:
For other DVVC member organizations offering other services or community programs please check our directory at https://dvvc.org/directory/
How to Help Afghans
For those who would like to volunteer or serve Afghanis as they resettle in the US – including those coming to Philadelphia area or staying temporarily at Joint Base McGuire-Dix-Lakehurst – here are some names of organizations and ways that you may help.
We have compiled a list of organizations that may still be working to get Afghans to the U.S. or are helping them resettle after arriving. One list was provided by Task and Purpose and one list was provided by the Inquirer. See also https://www.alliesrefuge.org.
A few of our DVVC member organizations, including the West Point Society of Philadelphia and several of our universities, have already begun work with some of these agencies.
Organizations Vetted by Task and Purpose (in late August)
No One Left Behind (https://nooneleft.org/)
The focus of this organization is two-fold: they seek to revamp the State Department's 14-step process for Special Immigrant Visas (SIVs) and to also ease the transition for those who have been resettled in the U.S. They are accepting donations, and report that $0.76 of every dollar goes directly to the SIV families. They can be reached at info@nooneleft.org.
Keeping Our Promise (https://www.keepingourpromise.org/)
This organization provides resettlement assistance to "endangered wartime allies who served U.S. interests in conflict and war zones." They also have information on how Afghans based in the United States can file for what the government calls "Humanitarian Parole" for their family members still in Afghanistan. Individuals and groups can donate money or time, and their audited financials are available on their website.
Evacuate Our Allies (https://www.evacuateourallies.org/home)
EOA is a coalition of groups working together to evacuate and resettle Afghan allies who are in the Special Immigrant Visa process and other vulnerable Afghans. They report that one issue they are having is housing Afghan refugees that have made it to the United States, so if you would like to volunteer in any way to include housing families, you can fill out this form or send an email to list@evacuateourallies.org and somebody will contact you.
International Refugee Assistance Project (https://refugeerights.org/)
IRAP has been providing resources and assistance to refugees since 2008 and has ramped up efforts to help Afghans amid the current situation. They provide legal assistance to refugees to help them navigate through the process of relocating, whether it be via SIV or other means. Their website is filled with resources for SIV applicants, other refugees, and those wishing to help them and their families
Representatives and U.S. Resources
Rep. Andy Kim (D-N.J.) also has a form individuals can fill out to help the State Department connect with individuals on the ground in Afghanistan who require assistance..
Additionally, this crowdsourced Google Doc provides far more resources and avenues for people to show their support in responding to a humanitarian crisis. It includes petitions and social media callouts for people to share their views on helping Afghan refugees, other ways people can help friends and family members in Afghanistan and provides ways for people to help refugees as they resettle in a foreign land.
Opportunities as described in the Inquirer (published August 20)
Volunteer
The Philadelphia-based Nationalities Service Center (NSC) says "as a refugee resettlement agency, we stand ready to provide sanctuary to the men, women, and children fleeing the Taliban regime." Here are things you can help them do:
Meet refugees at the airport and help them get to their new homes.
Help set up housing for new refugees, by helping clean a home or set it up as a safe and comfortable living space. If you're a landlord and can help arrange suitable housing, contact NSC's Eduardo Esquival at eesquival@nscphila.org.
Make or donate meals, especially Afghan food, so refugees have familiar and comforting food when they arrive.
HIAS Pennsylvania, which is also based in Philly, also suggests some options for folks who want to volunteer:
Help resettle refugees with temporary housing via HIAS Pennsylvania's partnership with Airbnb's Open Homes initiative, through which you can "use your extra space to provide a welcoming stay for refugees." More information is available on the website.
Realtors and landlords who can provide affordable housing to refugees for six months to a year should contact the community engagement specialist at community@hiaspa.org.
The nationally focused Lutheran Immigration and Refugee Service (LIRS) is also looking for volunteers to help with airport pickups, housing, and providing meals for refugees. Currently, that group is focused on the Washington metro area, and parts of Texas and Washington state, but you can sign up for its general standby list here.
Donate
Please see the entire article at https://www.inquirer.com/philly-tips/help-afghanistan-refugees-volunteer-donate-20210820.html
DVVC member organizations are urged to provide updates on resources and activities supporting Veterans or allied refugees via our Facebook page www.facebook.com/dvvcorg
DVVC thanks you for anything you can do to support these efforts. Let us know how to help.