Read the January 2023 Newsletter from the Delaware Valley Veterans Consortium to stay informed about events and issues happening in the area.
Do you have news to share or upcoming events for the February 2023 newsletter and beyond? Please share!
This newsletter is published monthly as part of DVVC's efforts to connect, collaborate, and communicate in service to Veterans throughout our region. Send your updates and questions to dvvcinfo@gmail.com.
Member Organizations: To submit articles to the newsletter, please email Fern.Billet@va.gov by the 25th of the month with your news. To submit news to DVVC social media sites, please email Lynne Williams at Director@greatcareersphl.org with "For DVVC Social Media" in the subject line.
____________________
News from the Executive Committee  
Dear DVVC community,
I hope you have enjoyed a pleasant holiday season, and wish you a healthy and happy 2023.
Over the past year, the Delaware Valley Veterans Consortium has been actively fulfilling its mission of connecting our members and promoting collaboration through programming and information sharing. The coming year promises to provide new opportunities for our veteran community, and veteran-serving organizations. Two examples:
An expansion of VA health care and benefits authorized through the PACT Act; and
The new veteran small business certification program being implemented by the U.S. Small Business Administration
DVVC will strive, through its communications and programming, to ensure all veteran-serving organizations in the greater Philadelphia region are aware of and prepared for such changes and opportunities as they arise. One way to ensure that our efforts meet your needs is to attend our annual programming meeting on January 20th at Saint Joseph's University. This meeting, which will be held in person and via Zoom, allows the working committees of DVVC (Membership, Programming, and Marketing) to prepare for the coming year's activities. Your participation is encouraged. There'll also be an update on improvements to our website! Register here (or DVVC on Eventbrite.com).
Also in January:
Military Veterans and Families Day at the Pennsylvania Farm Show is Thursday, January 12th. Discounts will be offered for veterans and their families, and DMVA will have outreach representatives on hand. If you've never experienced the Farm Show, it's worth a trip to Harrisburg!
Veteran-serving nonprofit organizations may apply for grant support from the Pennsylvania Veterans Trust Fund. Learn more about the program and eligibility on the Department of Military and Veterans Affairs webpage, dmva.pa.gov. Applications are due on January 19, 2023.
Thank you for all you and your organizations do for our veterans. Greater Philadelphia truly is a great place for veterans!
Hank Gillen
DVVC Executive Board
Director, Office of Veterans Services at Saint Joseph's University
____________________
Upcoming Events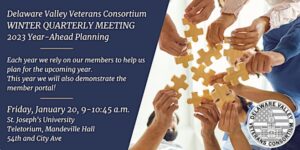 DVVC Quarterly Meeting – January 20, 2023, 9-10:45 am
Hybrid Meeting-virtual and in-person at St. Joseph's University, Mandeville Hall, 54th & City Line Avenue.
Annual DVVC planning meeting.
AGENDA:  MOVING FORWARD WITH 2023
Exciting Website Changes: Our Website committee has been hard at work on the functionality of the website including the member portal. The portal will allow you to connect to any other DVVC member – please come to see the demo.
ACHIEVING GOALS AND OBJECTIVES THROUGH COMMITTEE WORK.
Committee work is the core of DVVC. Please come and participate in the committee of your choice: Marketing, Membership, or Programming. Each committee will give a short introduction to help you choose which committee to join.
Hear our report on progress in the past year regarding committee accomplishments; website functionality and then move into committees in person or in breakout rooms on zoom.
Please share this notice with others who work with Veterans and their families. Our meetings are open to the public. We would love to have more individuals who work in the Veteran space participate in DVVC committees.
Please let us know if you are planning to attend in person so that our host offers the right number of light breakfasts.
Location:  Directions to Mandeville Hall at Saint Joseph's University
Mandeville Hall is located at 54th Street and City Avenue in Philadelphia. It is the home of the Erivan K. Haub School of Business. Access to the building is from 54th Street.
Guest Parking is available at the Hawks Landing garage, opposite the entrance to Mandeville Hall and Hagan Arena on 54th Street. The entrance to the garage is just behind the Starbucks, which is on the ground floor of the garage building. Parking around Mandeville Hall is reserved for permit holders.
See the map. Mandeville Hall is #8 on the map, Parking is building #1 on the map.
Our meeting will be in the Teletorium, at the 54th Street end of Mandeville Hall on the first floor
If your agency is not yet a DVVC member, please complete the membership application.
____________________
News & Announcements
Gov. Wolf Announces $1.35 Million in Veterans' Trust Fund Awards
On December 13, 2022, PA Governor Tom Wolf announced that 14 Pennsylvania county Veteran's affairs offices will receive $200,000 in grants, and 34 charitable or Veteran service organizations will receive $1.15 million in grants from the Veterans' Trust Fund (VTF), administered by the Pennsylvania Department of Military and Veterans Affairs (DMVA).
The VTF is funded by generous Pennsylvanians who voluntarily make a $5 donation when applying for or renewing their driver's license, photo ID, or a motor vehicle registration. Additionally, the VTF receives proceeds that come from the sale of the Honoring Our Veterans and Honoring our Women Veterans license plates or private donations. Since the grant program began in 2013, a total of $5,332,860 has been awarded to organizations that serve Pennsylvania Veterans.
Up to a total of $200,000 in grant funding was available for new, innovative, or expanded programs or services provided by county directors of Veteran's Affairs or the Pennsylvania Association of County Directors of Veterans Affairs. The three areas of emphasis for grantees in this category were Veterans' outreach, Veterans' courts, and training and capacity building.
The VTF grant also identified $1.15 million in funding available to Veteran service organizations with 501(c)(19) status and non-profit, 501(c)(3), charitable organizations with a mission of serving Pennsylvania Veterans. Funding priorities for grants in this category were Veterans' employment and education, behavioral health initiatives, or other programs addressing newly identified, unmet or emerging needs of Veterans and their families. In our area, the specific award amounts, and the programs supported are as follows:
AHARI – A Home is a Right, Inc., Philadelphia (Philadelphia County): $50,000 for AHARI WRAP program to serve homeless and at-risk Veterans
Alpha Bravo Canine, Philadelphia (Philadelphia County): $17,298 to provide service dogs to Veterans
Building Bridges Foundation at Anderson Farm, Conestoga (Lancaster County): $35,000 to provide interactive equine therapy to Veterans
Community Action Agency of Delaware County, Inc., Boothwyn (Delaware County): $30,281 to provide behavioral health services to Veterans
Council for Relationships, Inc., Philadelphia (Philadelphia County): $38,500 to expand emergency aid and access to mental health resources for Veterans and their families
Heroic Gardens, Jenkintown (Montgomery County): $27,740 to provide therapeutic services to Veterans
Operation Homefront, Philadelphia (Philadelphia County): $25,000 to provide supportive services to Veterans and their family members
Rodale Institute, Kutztown (Berks County): $50,000 to support the Veteran farming training program
Second Harvest Food Bank of the Lehigh Valley and Northeast Pennsylvania, Nazareth (Northampton County): $50,000 to support the MilitaryShareprogram
Shamrock Reins, Pipersville (Bucks County): $2,680 to provide equine therapy training and certifications to Veterans
Steven A. Cohen Military Family Clinic, Philadelphia (Philadelphia County): $49,489 to provide mental health supportive services to Veterans
Veterans Brotherhood, Pennsburg (Montgomery County): $29,000 to provide housing services to Veterans
Veterans Multi-Service Center, Philadelphia (Philadelphia County): $50,000 to expand their women Veterans' program
Voice and Vision Inc., Swarthmore (Delaware County): $35,555 to support mental health services for Veterans
Writeface, Conestoga (Lancaster County): $34,080 to provide therapeutic services to Veterans
All grant awards are contingent upon the completion of a fully executed grant agreement.
To learn more about the VTF, visit www.vtf.pa.gov or follow DMVA on Facebook at www.facebook.com/padmva
____________________
Our Community Salutes Has Job Openings
Our Community Salutes is a national non-profit organization founded in 2009 to honor and support our nation's high school seniors who plan to enlist in the military following graduation.  To support its mission and rapid growth, OCS seeks qualified applicants to fill the following new positions:
Director of Community Engagement (full-time)
Chief business development officer responsible for identifying, cultivating, and soliciting new corporate partners to raise revenues and awareness of OCS programs and services, as well as engaging military recruiters and veteran serving organizations in the planning and execution of all OCS Ceremonies.
Manager of Marketing and Digital Communications (full-time)
Chief Marketing Officer responsible for all branding and communications, including social media and DTC campaigns.
Director of Development (full-time)
Chief Development Officer responsible for identifying and securing grants and major donors to support OCS programs and services.
OCS Ceremony Coordinator (part-time)
This position is a part-time (six-month) virtual office position (January-June, 2023). The person will have primary responsibility for managing six teams of volunteers, each of who is planning six different OCS Ceremonies in 2023.
Job descriptions for all four positions are available at OCS Career Opportunities. Interested applicants should send their resumes to: resumes@ourcommunitysalutes.org
Please indicate the title of the position in the subject line.
____________________
One-Time Student Debt Relief                                                   
The week of Nov. 25, the U.S. Department of Education (Department) announced an extension of the pause on student loan repayment, interest, and collections. This extension will help alleviate uncertainty for borrowers as the U.S. Supreme Court reviews lower court orders preventing the Department from providing debt relief for tens of millions of Americans.
Payments would resume 60 days after the agency is permitted to implement the program or the litigation is resolved, giving the court an opportunity to resolve the case during its current term. If the program has not been implemented and the litigation has not been resolved by June 30, 2023, payments would resume 60 days after that.
More information may be found at StudentAid.gov (see also President Biden's video update).
____________________

Veterans, Gold Star Families Get Free Lifetime Passes to National Parks
Last month on Veterans Day, the National Park Service unveiled a lifetime-pass program providing free entrance to national parks for veterans and their families. This pass waives entry fees for the National Park Service and the U.S. Fish and Wildlife Service, as well as the Bureau of Land Management, Bureau of Reclamation, U.S. Forest Service, and the U.S. Army Corps of Engineers sites.  ____________________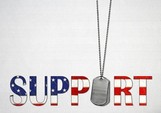 Department of Labor Supports Veterans' Transition to Civilian Life
The U.S. Department of Labor's (DOL's) Veterans' Employment and Training Service (VETS) works to ensure the transition for service members to civilian life is smooth. The DOL's Office of the Chief Information Officer (OCIO), the department's IT hub, helps support VETS in these efforts. VETS, with application development support from OCIO, began the Employment Navigator and Partnership Pilot to provide personalized career training. VETS also created the website HIREVets.gov, with OCIO's support, to help veterans and their families connect with employers looking to hire veterans.
____________________
The Military Child Well-being Toolkit  
The Military Child Education Coalition (MCEC) created a Military Child Well-being Toolkit.  This toolkit provides accessible social-emotional supports and resources directly to parents, educators, school counselors, administrators, and other youth-serving professionals working with military-connected youth. It also provides evidence-based content meant to foster the emotional intelligence, and overall well-being of military children. Students of military families living with posttraumatic stress disorder, traumatic brain injury, and other injuries can also benefit from this toolkit.
____________________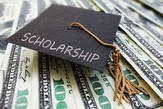 Exclusive Scholarships Only for Military Spouses
There are many scholarships for military spouses, but due to limitations and degree restrictions they are often difficult to apply for. Did you know scholarships are available to Military spouses through The National Military Family Association (NMFA)?  These scholarships are uncomplicated and easy to apply for, and awardees can receive a scholarship more than once. NMFA has awarded scholarships to pay for everything from GEDs, Ph.D.s, professional licenses, and certifications.
____________________

Career Support Available from Great Careers Groups
JANUARY 2023
Join in on the adult career online education topics and networking in January 2023 at the Great Careers Groups (GCG). Visit the EVENTS page to register for our Zoom and Clubhouse events. Connect on social media and subscribe to our weekly newsletter.
Mon Jan 2 – Career Success Group Job Seeker Accountability & Networking
Tues Jan 3 – To Survive & Thrive After a Job Loss
Tues Jan 3 – Virtual Jobseeker Support Meeting
Wed Jan 4 – PowerThinking: Rejuvenating Your Amazing Mind Weekly Resilience Building Call-In
Thurs Jan 5 – LGBTQ+ OUTstanding Careers Group™
Fri Jan 6 – Interview Techniques
Tues Jan 10 – Resume Musts for 2023
Wed Jan 11 – PowerThinking: Rejuvenating Your Amazing Mind Weekly Resilience Building Call-In
Wed Jan 11 – Bridging the Gap from Interview to Offer
Thurs Jan 12 – Career Success Group Job Seeker Accountability & Networking
Thurs Jan 12 – Tips to Optimize Your Resume
Fri Jan 13 – The Ultimate Job Interview Framework
Sat Jan 14 – How to Excel During Phone Screens, Zoom, and In-Person Job Interviews
Mon Jan 16 – Career Success Group Job Seeker Accountability & Networking
Mon Jan 16 – Am I Managing My Career Successfully? What's the Plan?
Tues Jan 17 – Get Hired: Career Brand Phrases That Stick
Tues Jan 17 – How to Craft a Resume That Gets Attention
Tues Jan 17 – Lehigh Valley Business Executives Networking Group (BENG)
Wed Jan 18 – PowerThinking: Rejuvenating Your Amazing Mind Weekly Resilience Building Call-In
Thurs Jan 19 – Recruiter on Call with Jobs
Thurs Jan 19 – Tips to Optimize Your LinkedIn Profile
Fri Jan 20 – Interview Techniques
Sat Jan 21 – LinkedIn Part 2 of 3
Tues Jan 24 – Discover the 4 Pillars of Career Satisfaction to Land a Job You Love
Tues Jan 24 – Business Executives Networking Group (BENG)
Wed Jan 25 – PowerThinking: Rejuvenating Your Amazing Mind Weekly Resilience Building Call-In
Wed Jan 25 – Research for Targeting Your Job Search
Thurs Jan 26 – Career Success Group Job Seeker Accountability & Networking
Thurs Jan 26 – How to Analyze Your Headline for LinkedIn, Emails, and Blogs
Fri Jan 27 – Great Careers Group Interview with Integrate for Good Facebook Live
Mon Jan 30 – Career Success Group Job Seeker Accountability & Networking
Mon Jan 30 – Princeton Community Works 3-Day Nonprofit Conference
Tues Jan 31 – Resources & Winning Strategies to Catapult Your Nonprofit Job Search
Tues Jan 31 – Annual Reviews as Career Catapults
Any GCG meeting with a $5 fee is free for unemployed veterans by arranging in advance that you want to attend – director@greatcareersphl.org.
____________________
VA News
VA Press Release: VA Will Begin Processing PACT Act Benefits Claims for all Veterans and Survivors on Jan. 1
WASHINGTON — On Jan. 1, 2023, the Department of Veterans Affairs will begin processing PACT Act benefit claims for all Veterans and their survivors.
The PACT Act is the most significant expansion of Veteran benefits and care in more than three decades, empowering VA to help millions of toxic-exposed Veterans and their survivors. Since President Biden signed the PACT Act into law on Aug. 10, more than 213,000 PACT Act-related claims for benefits have been submitted. Additionally, more than 959,000 Veterans have received VA's new toxic exposure screenings, with nearly 39% reporting a concern of exposure.
"The PACT Act is the least we can do for the countless men and women…who suffered toxic exposure while serving their country," said President Biden during the PACT Act bill signing ceremony. "It means access to life insurance, home loan insurance, tuition benefits, and help with healthcare. It means new facilities, improved care, more research, and increased hiring and retention of healthcare workers treating Veterans."
From the moment the PACT Act was signed into law, VA's priority has been getting Veterans the benefits they deserve as quickly as possible. VA sped up the timeline for many Veterans to get their PACT Act benefits by several years by deciding not to phase in PACT Act benefits through 2026, as written into the legislation, and instead make all new PACT Act presumptions of exposure and service connection applicable Aug. 10. January 1 is the earliest date that VA will have both the authorities and capabilities necessary to fully process all PACT Act claims.
"We at VA are ready to process these claims and deliver PACT Act-related care and benefits to toxic exposed Veterans and their survivors," said VA Secretary Denis McDonough. "To all Veterans and survivors: don't wait, apply now – we will get you the care and benefits you deserve."
"Right now, VA is delivering more benefits, more quickly, to more Veterans than ever before – and we are ready to deliver PACT Act benefits to all Veterans starting January 1," said Josh Jacobs, senior advisor for policy, who is currently performing the delegable duties of the Under Secretary for Benefits.
To prepare for the influx of PACT Act claims, the Veterans Benefits Administration has been aggressively hiring and training Veterans service representatives, rating Veterans service representatives, and legal administrative specialists around the nation. Over the past two years, VA has hired more than 2700 individuals to help process Veteran claims. As a result of these efforts, VA is processing Veteran benefits claims at the fastest rate in VA history: in 2022, VA completed more than 1.7 million VA disability and pension claims for Veterans, an all-time VA record that broke the previous year's record by 12%.
While VA did not have the capabilities to begin fully processing PACT Act claims for all Veterans until Jan. 1, 2023, VA was able to expedite processing for terminally ill Veterans beginning Dec. 12. VA continues to prioritize processing claims for terminally ill Veterans, Veterans with toxic exposure-related cancers, Veterans experiencing homelessness, Veterans older than 85 years old, Veterans experiencing financial hardship, and Medal of Honor and Purple Heart recipients. In most cases, if a Veteran files a claim within the first year after the President signed the bill, the effective date for benefits will be Aug. 10, 2022.
VA is currently executing the largest Veteran outreach campaign in its history to inform Veterans, their families, and survivors about the PACT Act and encourage them to apply for the health care and benefits they have earned. As a part of that effort, VA hosted a PACT Act Week of Action between Dec. 10 and Dec. 17, during which the Department hosted more than 120 events across all 50 states, the District of Columbia, and Puerto Rico.
For more information about PACT Act and how to file a claim, visit va.gov/PACT. If Veterans, their families, caregivers, or survivors have questions about PACT Act and wish to speak with someone to help, they may
call 1-800-MyVA411 at any time.
____________________
Have an Appointment at VA? Check-in with Your Phone
Smartphone check-in is now available at most VA health facilities. Here are easy instructions on how smartphone check-in works.
____________________
The PACT Act and your VA Benefits
The PACT Act is a new law that expands VA health care and benefits for Veterans exposed to burn pits, Agent Orange, and other toxic substances. This law helps us provide generations of Veterans—and their survivors—with the care and benefits they've earned and deserve.
Visit www.va.gov/PACT to get answers to your questions about what the PACT Act means for you or your loved ones.
____________________
New Toxic Exposure Screening for Veterans – Get to Know the Process
It's important to have a long-term health care plan. The new toxic exposure screening can help you plan with your VA health care team. If you're enrolled in VA health care, you can now receive the toxic exposure screening at VA medical centers and clinics across the country.