Read the June 2022 Newsletter from the Delaware Valley Veterans Consortium to stay informed about events and issues happening in the area.
Do you have news to share or upcoming events for the June 2022 newsletter and beyond? Please share!
This newsletter is published monthly as part of DVVC's efforts to connect, collaborate, and communicate in service to Veterans throughout our region. Send your updates and questions to dvvcinfo@gmail.com.
Member Organizations: To submit articles to the newsletter, please email Fern.Billet@va.gov by the 25th of the month with your news.

To submit news to DVVC social media sites, please email Lynne Williams at Director@greatcareersphl.org with "For DVVC Social Media" in the subject line.
---
Save the date for the DVVC Summer Quarterly Meeting – July 22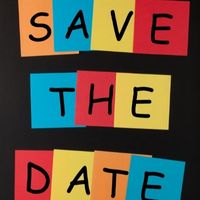 ---
36th Donald W. Jones Flag Memorial presented by
Delaware Valley Vietnam Veterans

An inspirational display of over 65,000 American flags in the shape and size of the Vietnam Veterans Memorial Wall in Washington, DC. Each flag represents an American killed or a POW/MIA during the Vietnam War.
Also, an honorable display of over 5,000 flags in our Star of Honor Memorial for those brave soldiers lost in the Iraq & Afghanistan Wars and GWOT. Each flag is planted in the ground by someone who cares. Please join us in honoring these brave American soldiers on this patriotic weekend.
Day 1 – Friday, June 10: Volunteers are needed to help plant flags starting at 9 am.

Day 2 – Saturday, June 11: Free Concert & Day of Reflection Bands starting at 12 noon.
Day 3 – Sunday, June 12: Motorcycle Rally – Starting at 12 noon at Bristol Township Vietnam Veterans Memorial 2501 Bath Rd Bristol. Repatriation Ceremony – Starting at 1 pm. Volunteers needed to help pull flags after the ceremony.
Location for Event: 9050 Millcreek Road, Levittown, PA 19054
For more information, see: https://www.facebook.com/pages/Falls-Township-Community-Park/144274722271029
Here is a video for your perusal: https://www.youtube.com/watch?v=X7B0ge-bCEI
---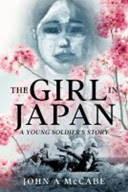 Former Penn Student Veteran Publishes Novel With Military Theme
John A. McCabe, a Military Veteran from Feasterville, PA, was a student Veteran who had graduated from the University of Pennsylvania's College of Liberal and Professional Studies. John is an author who has mastered numerous literary genres, publishing prior works of short stories, poetry, and a screenplay.

His new novel, The Girl in Japan: A Young Soldier's Story, hit Amazon's virtual shelves on April 19th. The story centers on Joe McGrath, a veteran who, in flashback, recalls the testing he underwent while a U.S. Army recruit. McGrath and his regiment were purposefully exposed to radiation in the Nevada desert, part of an official experiment gauging the after-effects of nuclear war.

Years later, he meets Reiko, the titular "girl in Japan." Her own experience with atomic radiation at the end of World War II makes for a special connection between the two. The plot then time-shifts forward to 2022, where the pair issue a compelling and first-hand warning about the ongoing fragility of humankind.

More on author John A. McCabe and his latest work is at Amazon.

Ruff Ride
When: June 4-5, 2022 (Noon to Noon)
Where: Lincoln Financial Field
Who: You (and your team, org, group, or company!)
What: Ruff Ride! Held at Lincoln Financial Field, Ruff Ride is part festival, part competition, bringing together a fantastic community of companies, service organizations, or groups of friends to form teams to sponsor a stationary spin bike. Teams compete against each other for bragging rights throughout the event all while raising funds for Team Foster. Literally the only one of its kind, Ruff Ride brings all the fun you can handle for 24 hours.
In short: We provide the bike, the fun, the dogs & you provide the team. Go!
How: Each registered team is assigned a spin bike. Fill your team with civilians, Vets, athletes, or non-athletes to take turns keeping the bike going for 24 consecutive hours. Your team can be 5 or 50 riders. Teammates can ride for 10 minutes or 10 hours. It's up to you! Go here for tips and tricks for a successful Ruff Ride.
Why: 20+ Veterans and service members die by suicide every day. Service dogs can save these lives. All money raised benefits Team Foster. Team Foster's mission: No Hero Left Behind. Through events like Ruff Ride, Team Foster raises money to fight for the unmet needs of injured and disabled Veterans by bringing together civilians, Veterans, and highly trained service dogs.
---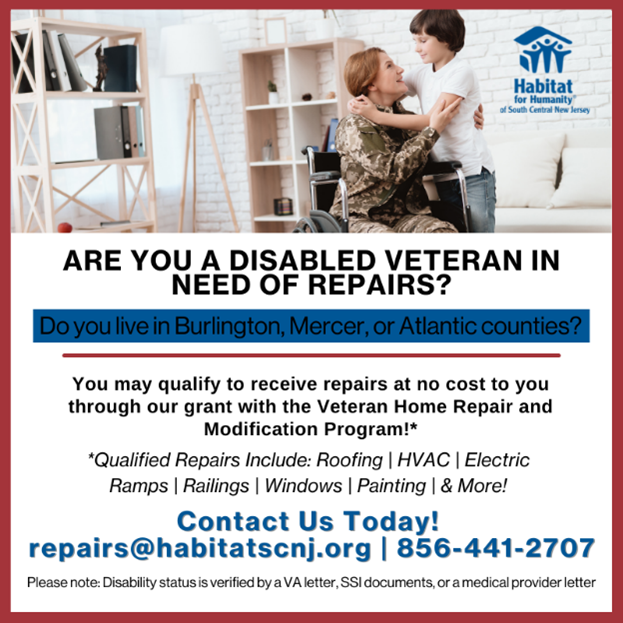 Announcements from Habitat for Humanity of So. Central NJ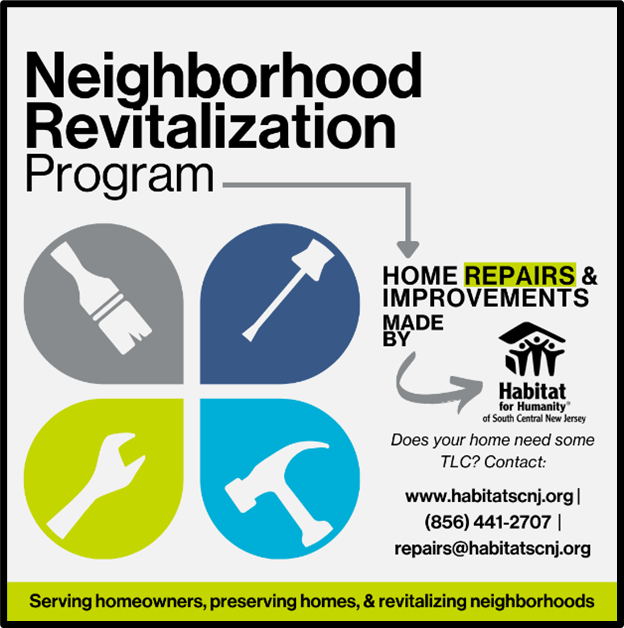 Join in on the adult career online education topics and networking in June 2022 at the Great Careers Groups. Visit the EVENTS page to register for our Zoom and Clubhouse events. Connect on social media and subscribe to our weekly newsletter.
PowerThinking: Rejuvenating Your Amazing Mind Weekly Resilience Building Call-In
How to Create Snazzy Graphics for Social Media Overview
How to Create Snazzy Graphics for Social Media Ste-by-Step Demos
LGBTQ+ OUTstanding Careers Group™
Interviewing Techniques
Discussing Disclosures and Understanding Accommodations
Career Success Group Job Search Accountability & Networking
Discover Your Hybrid Professional BValue, Become More Than a Jack-of-All-Trades
Virtual Jobseeker Support Meeting
Increasing Employment Preparedness & Job Search Success for Jobseekers with Disabilities
Applying to Jobs You Don't Think You Can Get
What does reinvention mean to you?
What to do BEFORE You Quit or Resign from Your Job
The Five Leadership Superpowers™
From Self-Sabotage to Self-Made Success
Recruiter on Call with Jobs
How to Develop Successful Job Search Strategies
How to Stop Your Inner Saboteur from Your Next Great Opportunity
LinkedIn Part 1 of 3
How to Use Clubhouse Step-by-Step Hands-on Live
The Steps for Building an Effective Resume
Leveraging LinkedIn for Nonprofits
How to Tell Fear in Your Career That You're the Boss
Letting Go of Negative Attachments & Moving into Your Powerful Future
Networking with Mid- to Senior-Level Executives
And more!
Any GCG meeting with a $5 fee is free for unemployed veterans by arranging in advance that you want to attend – director@greatcareersphl.org.
---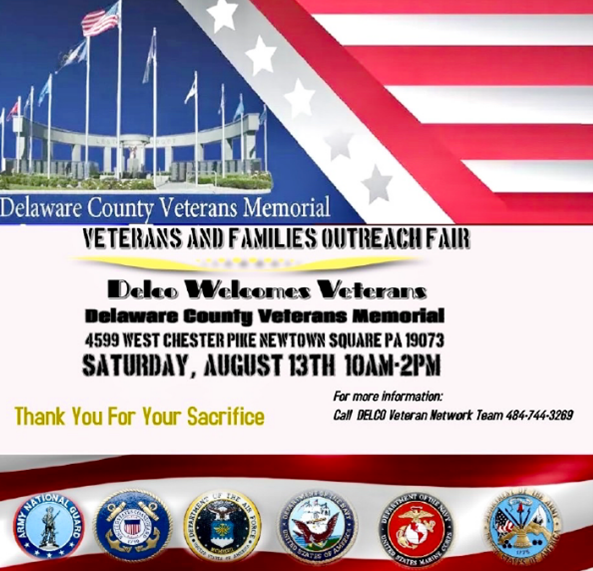 Invitation to Participate in Veteran and Family Outreach Event on Saturday, August 13 from the Delaware County Veterans Network 

Your organization is invited to host a resource table during our Veteran and Family Outreach Event on Saturday, August 13, 2022.  It will be held at the Delaware County Veterans Memorial in Newtown Square and is sponsored by the Delaware County Veterans Network. There is No Charge for your participation.
The Delaware County Veterans Network has been working with the Department of Veterans Affairs, Veterans non-profit organizations, and other community and civic partner programs.  Together, we work on identifying and addressing the gaps in resources available for delivering services to Veterans, as well as a disconnect between the Veterans and their families.
 
We recognize your hard work and dedication to our nation's Veterans and would be privileged to enjoy your participation. We have learned that Veterans feel more comfortable around other Veterans and their families because it offsets the feelings of isolation that some Veterans experience. Your involvement helps create a welcoming environment for our Veterans while enabling your resources to gain maximum effect.  
 
By hosting a resource table, you can offer your unique perspective in a most welcoming environment and help us fulfill this mission of love – all in service to our Veterans and their families. Being present and staying engaged throughout the full event is essential to encouraging Veteran participation in future events. This also offers us the chance to foster the necessary networking between community organizations to better serve our Veterans.
 
For more information about the event please contact the Delaware County Veterans Network team at 484-744-3269.
 
If your organization is interested in participating, please contact the DCVN at the email address below and request a registration form. delcoveteransnetwork@gmail.com.
---
Veterans Clothing Outreach

DAV is collecting clothing for needy & homeless veterans.
We are accepting clean and serviceable men's and women's clothing and new socks. Donated clothing can be deposited at my residence. We are also looking for any organization that can use this collection of clothing for Veterans in need.


Contact Douglas DiToro, RN, CPT USA (RET) 
Member: DAV Delco Chapter 113  
1623 Woodmere Way, Havertown, PA
610-789-4297 
email d.ditoro@aol.com
---
What to Expect at The Cohen Clinic at Penn
We understand that knowing what to expect and being prepared can help with taking that first step to get support. Treatment at the Cohen Clinic is in four phases. Here's what to expect:
Phase 1: Getting Connected
The fastest way to get connected is to call 844-573-3146.
Callers who are eligible for services are connected to our intake coordinator to complete a 20-minute intake screening.
After the intake screening, new clients are scheduled for a clinical assessment with a therapist within 1-2 weeks.
Phase 2: Assessment & Diagnosis
The next steps is the clinical assessment which will result in a personalized treatment plan.
Clinical assessments happen over one or two sessions for individuals, or up to three sessions for couples/families.
Clients will discuss their challenges and share background information, based on their comfort.
The assessment helps the therapist identify the appropriate diagnosis and begin to create a personalized treatment plan.
Phase 3: Treatment
The treatment phase is the longest but most important. Each person's treatment plan varies and can include the following components:
Therapy: Expert clinicians provide evidence-based treatments for individual adults, children, and adolescents; couples; and families. Appointments are typically once a week for 10-16 weeks.
Case Management: Connects therapy clients to additional resources to get support for other urgent needs.
Medication Management: In-house psychiatrists provide evidence-based medication treatment options.
Phase 4: Completing Treatment
Length of treatment can vary, but our time-limited treatment model is designed to get clients back to better within 10-16 sessions (or three to four months of weekly sessions). Completing treatment includes:
Working with their therapist on a transition plan that includes next steps after completing treatment at the Cohen Clinic.
Working with our case management team for any post-treatment support.
Follow-up quality of life surveys 3, 6, and 12 months after treatment. These help us monitor long-term mental health gains.
Learn more and watch our "what to expect" video on our website >>

The Cohen Clinic is accepting new clients, with almost no wait for individual therapy services for adults. We have lots of day-time appointment availability and can get new adult clients started in individual therapy within 2 weeks or less. Evening appointments will have a slightly longer wait.
In-person and telehealth services are available.
Visit our website or call 844-573-3146 to learn more about our services.
---
VA Updates
Veterans-Sign Up Now – The Future of Health Care is in your Genes.
Why are some Veterans more at risk for heart disease or depression? Why do treatments work for some but not others? VA's Million Veteran Program is using genetic, health, and lifestyle data collected from over 875,000 Veterans to support researchers' quest for answers. You can help by joining today.
Thanks to our participants, MVP is helping to advance research that is important to Veterans, including:
Predicting the risk of cancer
Understanding complications of diabetes
Managing mental illnesses like PTSD and depression
Preventing cardiovascular disease
To learn more and sign up, visit mvp.va.gov or call 866-441-6075 to schedule an appointment.
From all of us at MVP, we thank you for your participation and support of VA research.
VA is Here for You During Times of Emotional Distress
Feeling distress is a normal response to negative events, especially events that feel personal. Veterans and those who care about them are encouraged to learn more about available mental health and healing resources.
Every VA facility has mental health specialists. Find one near you.
Community-based Vet Centers are available to you. Call 1-877-927-8387 or find one near you.
Maketheconnection.net offers stories of hope and healing for Veterans experiencing challenging life events.
Call the Veterans Crisis Line 24/7 at 1-800-273-8255 and press 1, text to 838255 or chat.
Have a question for VA? 1-800-MyVA411 (800-698-2411) is available 24/7.
Veterans Benefits Newsletter available here: Veterans Benefits Newsletter | May 2022 (govdelivery.com)
VISN 4 – Vision for Excellence – Issue 31
We are pleased to share the latest issue of Vision for Excellence. In this issue, we spotlight the advances made with 3D printing in VISN 4's new central fabrication prosthetics lab. We also highlight the expansion of the Program of Comprehensive Assistance for Family Caregivers (PCAFC) and recent positive outcomes from our home telehealth and home-based primary care teams.
VA Launches $20 Million Innovation Challenge to Reduce Veteran Suicide
As part of the Department of Veterans Affairs' 10-year strategy to reduce Veteran suicide, VA invites innovators across the country to participate in Mission Daybreak, a $20 million challenge designed to help VA develop new suicide prevention strategies for Veterans.
Those interested are encouraged to submit their detailed concept papers to the VA no later than July 8, 2022.

The effort supports the goals of President Biden's Unity Agenda and aligns with the priority goals and implementation principles of the White House strategy on reducing military and Veteran suicide.

In the most recent National Veteran Suicide Prevention Annual Report more than 45,000 American adults died by suicide, including 6,261 Veterans. Proposed solutions for Mission Daybreak should seek to address one or more of the designated challenge focus areas outlined in the Mission Daybreak webpage.

To learn more and hear from experts, solvers are encouraged to register for the upcoming virtual information session and topical webinars. Forty teams will receive awards ranging from $100,000 to $3 million which will be distributed across two phases.

Visit https://www.missiondaybreak.net/about-mission-daybreak/ for more information on the challenge.
---
News from the Executive Committee June 2022
Friends and Partners,
Recently the DVVC executive committee met with Lindsey Hodkinson, program manager, Community of Practice, D'Aniello Institute for Veterans and Military Families at Syracuse University. We had previously met with staff from this organization, formerly known as the Institute for Veterans and Military Families or IVMF, in 2016. At that time IVMF was partnering with Unite Us to set up referral networks for Veterans and Veteran services around the country. Two of the first to be established were in New York City and Pittsburgh, known as PA Connects. At that time, we were a relatively new organization and decided to observe other networks but to grow DVVC before working to establish a referral network in the Philadelphia area.
At our recent meeting, IVMF staff proposed doing an assessment of the scope and needs of the military/veteran community in the greater Philadelphia region. A draft proposal of the survey will be prepared by IVMF for DVVC over the next few weeks. The proposal will include the projected cost for the assessment. We know that funds will need to be raised to cover the cost for this survey and analysis, and if we decide to move forward, we will look for possible sources of funding.
Initial reception from the executive committee was very positive. The survey would give DVVC a better understanding not only of the demographics but also of the needs and strengths of the military/veteran population. This information could be very helpful to you, our member organizations.
What do you think? Please let us know if this data would be helpful to your organization. What questions would you like this project to investigate? And finally, would your organization be willing to sign a letter of support that DVVC could use for raising the project funds?
Please let us know your comments at dvvcinfo@gmail.com.
I appreciate and look forward to hearing your thoughts on this potential new project.
Respectfully,

Nancy Isserman, Vice Chair DVVC
Director, Operation Home and Healing: Services for Veterans and Families
Council for Relationships