Read the October 2022 Newsletter from the Delaware Valley Veterans Consortium to stay informed about events and issues happening in the area.
Do you have news to share or upcoming events for the November 2022 newsletter and beyond? Please share!
This newsletter is published monthly as part of DVVC's efforts to connect, collaborate, and communicate in service to Veterans throughout our region. Send your updates and questions to dvvcinfo@gmail.com.
Member Organizations: To submit articles to the newsletter, please email Fern.Billet@va.gov by the 25th of the month with your news. To submit news to DVVC social media sites, please email Lynne Williams at Director@greatcareersphl.org with "For DVVC Social Media" in the subject line.
---
News from the Executive Committee
In the coming months, we will commemorate our military service members in different ways particularly as Veteran's Day approaches. Our history and culture provide many perspectives on Americans' views of military service in peacetime and war. However, one question is how to inspire Americans to look at the works and sacrifices of their fellow citizens living and dead, current, and former, in America's armed forces. It is important to thank someone for their service but sincerely not as an empty gesture. Here are a few ways to consider doing so; instead of "thank you for your service" you could say,
"I have my freedom because of you"
"Your service made it possible for all of us to be the country we are today"
"You are my hero"
"We miss you at home but truly appreciate your service to our country"
We also honor our Veterans when our mission is to improve their quality of life. The Veterans History Project is a great way to honor and pay special tribute to Veterans. A project of the American Folk Life Center of the Library of Congress, it provides our Veterans the opportunity to tell their stories. The Veteran History Project collects, preserves, and makes accessible the personal accounts of American war Veterans so that future generations may hear directly from Veterans in their own words and better understand the realities of war.
The DVVC Fall Quarterly meeting on October 21 will focus on veteran stories by exploring the healing power of stories through art in the military and Veteran communities. According to the Department of Veterans Affairs, suicide is the second-leading cause of death for post-9/11 Veterans, accounting for 22.3%, almost one-quarter of all deaths. Specialized modalities are being created and studied to provide extraordinary ways to assist those fighting a battle with suicide each day. Studies reveal these modalities of care are providing Veterans with a sense of purpose and help in reintegrating them back into their families and communities. 
How can civilians and Veterans help? We can learn how to reshape the trauma of war into an experience of resilience and growth for the Veteran by having their stories heard and providing a pathway to reconnect with their community. We can listen to experts who will share their experiences in working with Veterans so that they will be less likely to die of suicide or experience other debilitating effects of PTSD on their lives and the lives of their families by participating in these powerful programs of healing.
Join us for the DVVC Fall Quarterly Meeting on October 21, presented on Zoom, "Exploring the Healing Power of Stories Through Art in the Military and Veteran Communities". Participants of this program will be amazed at the many creative modalities Veterans use to express their experiences including writing poetry, and reading ancient war stories along with artwork and music. One can gain a unique impression of the many experiences of our warriors. It will be a powerful experience. For more details and to register go to https://www.eventbrite.com/e/exploring-the-healing-power-of-stories-within-veteranmilitary-communities-tickets-411603706767
Penn Medicine Veterans Care Excellence Liaison
Penn Medicine Veterans Care Excellence Liaison
DVVC Member-at-Large
---
SAVE THE DATE: DVVC FALL QUARTERLY MEETING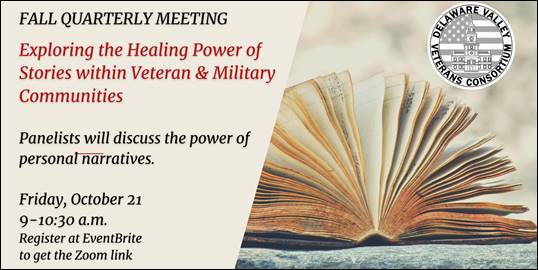 Date: October 21, 2022 9-10:30 AM
Program: Exploring the Healing Power of Stories within Veteran and Military-Affiliated Communities
Presenting:
Kimberly "Max" Brown Executive Director, Eternal Soldier – Penn Museum, Co-Director, Equity Capacity Building, VA HSR&D Center for Health Equity Research and Promotion (CHERP)
Corporal Michael J. Crescenz VA Medical Center – Philadelphia, PA
Sheila "Bridget" Murnghan, Allen Memorial Professor of Greek, University of Pennsylvania, Philadelphia, PA
Lisa Firmin, The University of Texas at San Antonio Military Liaison and CEO/Founder, Carrington Firmin LLC
Register at Eventbrite: https://www.eventbrite.com/e/exploring-the-healing-power-of-stories-within-veteranmilitary-communities-tickets-411603706767
---
Also on the Agenda for the Fall Quarterly Meeting: DVVC Elections
Voting on the slate of officers will take place at the October meeting per the DVVC by-laws. If you are unable to attend the meeting but want to have your vote counted, please send an email to dvvcinfo@gmail.com You can vote YES or NO for or against the full slate.
We are pleased to announce that all of our candidates are incumbents in their positions who want to continue to serve DVVC. They are running unopposed. Our candidates are:
Chair of the Executive Committee – Hugo Lentze, Consultant
Hugo has been involved in the veteran space for the past 9 years, and before that was an Army leader and helicopter pilot. He is passionate about the veteran space, having struggled with the challenges that face a lot of transitioning servicemembers: loss of identity and purpose, adapting to the new "normal", and translating skills that he learned in the military to the civilian world. Hugo has been involved in the local Philly/Delaware River Valley veteran space, but also in the national space through his work with a major veteran service organization. He lives in Doylestown with his wife, 2 boys, and a border collie.
I would like to continue to be the chairperson of DVVC because we are on the verge of making some significant moves in our understanding and support of veterans in the local area. This work takes energy and is a marathon, not a sprint. I want to keep working for DVVc as a leader before I have to give up the reins in 2 years. I love working for you, the military community and those who support the military community, and consistency of leadership is key to that goal.
Secretary of the Executive Committee – Ashley Griffiths, Executive Director, GC-Habitat for Humanity
Ashley serves as Executive Director with Gloucester County Habitat for Humanity in Pitman, New Jersey, where she oversees the affiliate's mission to provide affordable homeownership opportunities to low-income homebuyers. Ashley became involved in the veteran space while working with another Habitat for Humanity affiliate where she implemented the organization's first Veterans Build program. Ashley is currently serving her third year in the Honorary Commander program at Joint Base McGuire-Dix-Lakehurst, this year partnered with the 514th Mission Support Group.
It is an honor to be a part of the Delaware Valley Veterans Consortium and I will be grateful to have the opportunity to serve another term with the Executive Committee. DVVC plays such an integral role among veterans and organizations serving the veteran community, connecting those who need resources with those who provide them, and making our network and our veteran community stronger as a result. A lot of changes and growth have occurred in the past few years, and I am excited to continue to improve upon and expand our work.
Member-At-Large position. Vote for two.
Hank Gillen, Director of Veterans Services, St. Joseph's University
Hank is a twenty-year Army veteran and an Army spouse. He is the Director of the Office of Veterans Services at Saint Joseph's University, a 'Best College for Veterans.' As a representative of one of DVVC's educational member institutions, where our veterans benefit from DVVC members' support, Hank is keenly aware of the value provided by DVVC as a clearinghouse of info on what is available in greater Philadelphia, one of the best places to be a veteran. He'd like to continue to actively support DVVC on the board.
Paula Crawford-Gamble RN, MSN, CAPT, NC, USN (Ret) served in the Navy Nurse Corps (1990 – 2015) as an aircrew member, as head of the Medical Department on a U.S. Navy Aircraft Carrier, as a flight nurse with Marine Aircraft Group 49, and as Reserve Executive Officer and Commanding Officer of Portsmouth Naval Hospital. In 2015 she returned to Penn Medicine to lead Penn's Veterans Care Excellence Program (VCEP). As VCEP Liaison, Crawford-Gamble aids in the recruiting, training, and success-building of veteran employees at the Health System, as well as ensuring that veteran patients receive optimum care.
On the DVVC Executive Committee, Paula is involved in planning and implementing the quarterly meeting and the town hall programs. Through DVVC, she believes we can integrate our resources to successfully collaborate with community and government organizations to with the goal to improve the lives of veterans, their families, and caregivers.
---
JOIN US!! DVVC Social Hour Immediately following the Philadelphia Veterans Parade
Join us starting at 3 pm on Sunday, November 6, at Independence Beer Garden,
100 South Independence Mall West (near the corner of 6th & Chestnut Streets)
---
VVA Deeply Disappointed by Findings of DOD's Sexual Assault Prevention and Response Office Annual Report
On September 7, 2022, the Vietnam Veterans of America (VVA) released a statement outlining their disappointment in the findings of DOD's Sexual Assault Prevention and Response Office Annual Report (Washington, D.C.).
Their disappointment is with the findings which found a dramatic 13 percent increase across the services in reported cases of Military Sexual Trauma (MST) in 2021.
The report indicates that overall, 8.4 percent of female servicemembers and 1.5 percent of male servicemembers experienced unwanted sexual contact, the worst year for women since 2006, and the second worst year for men.
The numbers indicate a worsening problem despite recent efforts under the leadership of Defense Secretary Lloyd Austin to implement policy changes on how the military handles sexual assault. The current climate detailed in the report is one in which sexual assault rates are up and trust in the military when it comes to protecting victims is at an all-time low.
Vietnam Veterans of America has long been at the forefront of the fight for justice for the women and men of our armed forces who have suffered incidents of sexual assault, trauma, and harassment, and have zealously advocated for veterans struggling with PTSD, homelessness, substance abuse, suicide, and other mental and physical health problems stemming from their MST for nearly half a century.
The VVA is fully invested in ensuring that our nation takes care of veterans who have been impacted by MST. Our nation's veterans and active-duty servicemen and servicewomen have waited too long for change.
---
VA News
PACT Act Expands Healthcare Eligibility
Beginning Oct. 1, 2022, the PACT Act opens VA health care eligibility for hundreds of thousands of toxic-exposed Vietnam, Gulf War & post-9/11 Veterans. Read more here.
Seeking Veterans for the Midterm Elections: Earn up to $150 per day
Election Day is November 8
Veterans can receive around $150 per day serving as county poll workers.
60% of counties report a shortage of poll workers for the 2022 election cycle.
It's easy for Veterans to apply to be poll workers.
VA VISN 4 Clinical Contact Center
If you have an urgent medical or mental health question, call a VISN 4 Triage Nurse. Available 244/7/365.
Call 1-833-TELE-URGENT
1-833-835-3874
Have an Appointment at VA? Check-in with Your Phone
Smartphone check-in is now available at most VA health facilities. Here are easy instructions on how smartphone check-in works.
---
News from Coatesville VA Medical Center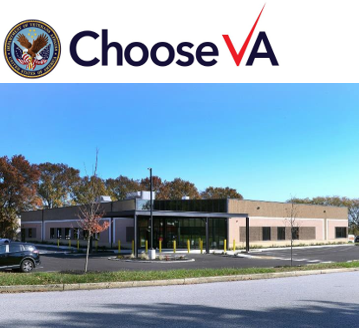 The Coatesville VA Medical Center is pleased to announce that effective immediately, an Enrollment & Eligibility coordinator will be available at the West Norriton VA Clinic, every Monday and Tuesday, from 8 am to 4:30 pm, to assist Veterans with enrollment for VA Health Care Services. No appointment is required. The West Norriton VA Clinic is located at 2495 General Armistead Avenue, Norristown, PA 19403.
---
Annual Sock Drive and Ditty Bags 2022 at the Chapel of Four Chaplains
For info, the sock and ditty bag drive for Veterans and Merchant Seaman commences now until Thanksgiving. Here is a ditty bag list of suggested items:
WISH LIST FOR DITTY BAGS
Hats and scarves in dark colors
work gloves
ChapStick
Nail clippers
Razors
Shaving cream
Playing cards
Hand lotion
Toothbrush, toothpaste
Deodorant
Shampoo
Comb
Pen & writing paper
Mini sewing kit
Hard or boxed candy, gum, cough drops
And any kind of new and durable pairs of socks.
Please drop off your items with Michelle in the Chapel Office.
The Navy Yard, Bldg. 649 |1201 Constitution Avenue | Philadelphia, PA 19112
P: 215-218-1943 | F: 215-218-1949
http://www.fourchaplains.org/

---


Join in on the adult career online education topics and networking in October 2022 at the Great Careers Groups. Visit the EVENTS page to register for our Zoom and Clubhouse events. Connect on social media and subscribe to our weekly newsletter.
Career Success Group
Virtual Job Seeker Support Group
How to Write & Equip Yourself for an Ideal Job Search
PowerThinking: Rejuvenating Your Amazing Mind Weekly Resilience Building Call-In
LGBTQ+ OUTstanding Careers Group
Interview Techniques
Interview Basics
The Power of Pull Marketing in Your Job Search
Tips to Optimize Your LinkedIn Profile
Does Your Resume Pass the 6-Second Test?
Business Executives Networking Group (BENG)
Tips on How to Build an Impressive Digital Career Portfolio
LinkedIn Part 2 of 3
What's Your Shtick? Personal Branding Online and Off
Four-Step Salary Negotiation
LinkedIn for Job Seekers
Recruiter on Call with Jobs
Building an Inclusive Culture
Beating the Applicant Tracking System
Cold Calling & Your Job Search
To Survive & Thrive After a Job Loss When You are 50+/- Years Old
And more!
Any GCG meeting with a $5 fee is free for unemployed veterans by arranging in advance that you want to attend – director@greatcareersphl.org.