Read the September 2022 Newsletter from the Delaware Valley Veterans Consortium to stay informed about events and issues happening in the area.
Do you have news to share or upcoming events for the October 2022 newsletter and beyond? Please share!
This newsletter is published monthly as part of DVVC's efforts to connect, collaborate, and communicate in service to Veterans throughout our region. Send your updates and questions to dvvcinfo@gmail.com.
Member Organizations: To submit articles to the newsletter, please email Fern.Billet@va.gov by the 25th of the month with your news. To submit news to DVVC social media sites, please email Lynne Williams at Director@greatcareersphl.org with "For DVVC Social Media" in the subject line.
---
Greetings friends,
Last month saw the passage of the PACT Act, historic legislation with one of the largest expansions of VA benefits in years. The Honoring our Promise to Address Comprehensive Toxics (PACT) Act of 2022 is a new law that expands VA health care and benefits for Veterans exposed to burn pits and other toxic substances. This law helps us provide generations of Veterans—and their survivors— with the care and benefits they've earned and deserve.

The PACT Act:
Adds hypertension and Monoclonal Gammopathy of Underdetermined Significance to the list of presumptions for Agent Orange exposure.
Establishes presumptions of service connection for additional respiratory illnesses and cancers related to burn pits or airborne hazards exposure for certain Veterans who served in the Gulf War and Global War on Terrorism (GWOT) (1990 to present).
Expands the presumption of Agent Orange exposure to Veterans who served in Thailand, Laos, Cambodia, and other locations.
Expands and extends eligibility for health care for many Veterans.
The PACT Act also establishes presumptions of service connection for more than 20 conditions related to exposure to burn pits and certain other toxins.

In the coming months, VA will undertake an extensive outreach and education campaign, using multiple channels and platforms, to effectively reach Veterans, dependents, survivors, caregivers, and other partners to ensure that affected Veterans take advantage of these new and expanded benefits.
Veterans are encouraged to file a new or supplemental claim based on the change in law. We also strongly encourage Veterans to apply to enroll in VA health care. Eligible survivors of deceased Veterans also may benefit from the new law and may file claims for benefits based on the Veterans' service.

Family members or dependents of a deceased Veteran may qualify for various VA benefits due to the additional disabilities defined in the PACT Act as long as they meet eligibility requirements. Benefits available include Dependency and Indemnity Compensation (DIC), Accrued, Burial benefits, and others.

For more information, or to apply for benefits go to VA.gov/PACT

John Miller
Change Management Agent, Public Affairs Officer
Philadelphia Regional Office
Department of Veterans Affairs
DVVC Board Member
---
Save the Date: DVVC Fall Quarterly Meeting
October 21, 9-10:30 am
Program:  Exploring the Healing Power of Stories within Veteran and Military Affiliated Communities
Presenting:
Kimberly "Max" Brown Executive Director, Eternal Soldier – Penn Museum, Co-Director, Equity Capacity Building, VA HSR&D Center for Health Equity Research and Promotion (CHERP)
Corporal Michael J. Crescenz VA Medical Center – Philadelphia, PA

Sheila "Bridget" Murnghan, Allen Memorial Professor of Greek, University of Pennsylvania, Philadelphia, PA

Lisa Firmin, The University of Texas at San Antonio Military Liaison and CEO/Founder, Carrington Firmin LLC
Register at Eventbrite: https://www.eventbrite.com/e/exploring-the-healing-power-of-stories-within-veteranmilitary-communities-tickets-411603706767
Also at the Fall meeting, elections for DVVC Chair, Secretary and two members-at-large. Current incumbents, Hugo Lentze, Ashley Griffiths, Hank Gillen, and Paula Crawford-Gamble are all seeking reelection.  If you are interested in running, especially for the vacant member-at-large position, please send a short bio and why you want to be on the executive committee to dvvcinfo@gmail.com.
Bios will be sent in mid-September. Voting at the Fall meeting. See you there!!
---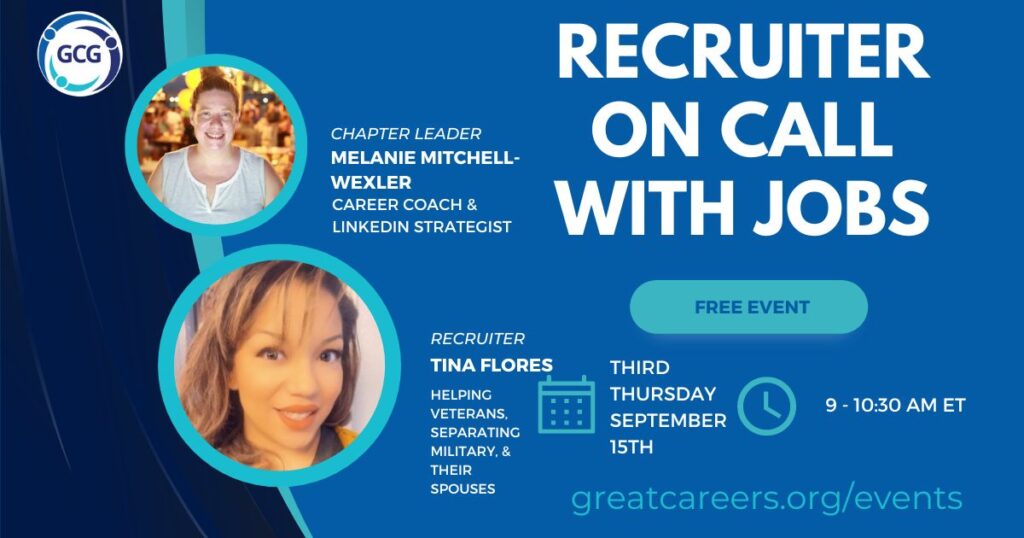 Join in on the adult career online education topics and networking in September 2022 at the Great Careers Groups. Visit the EVENTS page to register for our Zoom and Clubhouse events. Connect on social media and subscribe to our weekly newsletter. 
LGBTQ+ OUTstanding Careers Group
Interviewing Techniques
PowerThinking: Resilience Building Call-In
Career Success Group Job Seeker Accountability & Networking
Tips to Optimize Your LinkedIn Profile
How to Get Back in the Game
How to be a Champion & Knock Your Next Job Out of the Ballpark
What is Executive Leadership Coaching?
Innovation and You!
Business Executives Networking Group (BENG) Meeting
Navigating Challenging Conversations at Work (DEI)
Specifically for Veterans:  Recruiter on Call with Jobs with a Recruiter Helping Veterans & Milspouses – see graphic above and use this link to register
How to Create Snazzy Graphics for Social Media
LinkedIn Part 1 of 3
Strategic Research-based Approaches to LinkedIn
How to Job Search Over 50
Tell Me About Yourself
Unlock Your Dream Job: 3 Keys to Ending Your Job Search
What's your Shtick? Personal Branding Online & Off
Diversity Career Expo & Job Fair with the Philadelphia Inquirer & Monster
Tips on How to Build an Impressive Digital Career Portfolio 
And more!
 Any GCG meeting with a $5 fee is free for unemployed veterans by arranging in advance that you want to attend – director@greatcareersphl.org.
---
REGISTER NOW! VCAB's Veterans Research Town Hall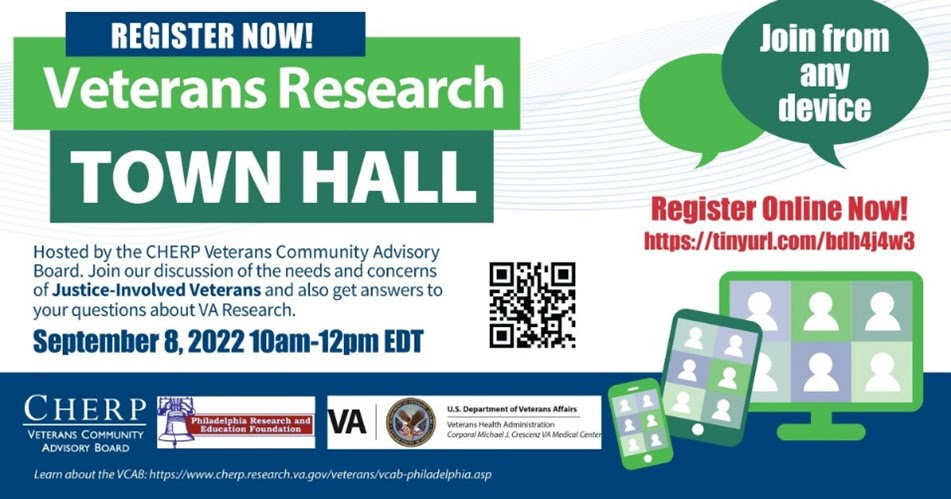 Register for September 8th, from 10 am – 12 pm for the Veterans Community Advisory Board (VCAB) collaboration with Phila Research and Education Foundation (PREF) to produce the Veterans Research Town Hall on Sept 8! Register Now! VCAB is organizing a hybrid in-person/online event to help improve VA research. Check out our event blog about Justice-Involved Veterans and their access to services. #veterantownhall #veteranvoicesshaperesearch
---

BIG NEWS! Team RWB and SPARTAN Races are teaming up this year, including for the Tri-State New Jersey Trifecta Weekend in Vernon, NJ on October 1st and  October 2nd and the DEKA World Championships in Atlantic City, NJ on November 19th! 

We have 30 bibs for RWB members for each weekend. First come, first serve by clicking the link below!
NJ Trifecta Bibs!
DEKA Bibs!
Invite friends and family to join you too! If they register with the below codes, a portion of the registration will go to Team RWB!

New Jersey Trifecta: GIVE-RWBNJ2
Atlantic City DEKA: GIVE-RWBDEKAWC
 
We are SO excited to work together in getting as many veterans as possible out!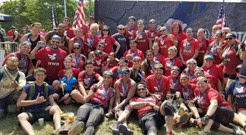 ---

Registration is now open for the 9/11 Heroes Run 5k race series. As years pass, our movement to remember and honor those who sacrificed on September 11, 2001, becomes more important, in addition to honoring the lives.
lost on that day, 9/11 Heroes Runs pay tribute to the thousands of veterans, active duty, and first responders who have courageously served in the wake of that national tragedy. In partnership with GORUCK, each race location will feature a rucking division and all finishers will receive an exclusive 2022 9/11 Heroes Run TMF GORUCK patch.​ Run, ruck, or walk with us this year to honor the service & sacrifice of our first responder & military heroes.
---
Women Veteran's Center – September Calendar
Call or email the WVC for any questions or to RSVP to one of our events at 215-923-2600 ext. 180 and wvc@vmcenter.org WVC Address: 259 N Lawrence St Philadelphia PA 19106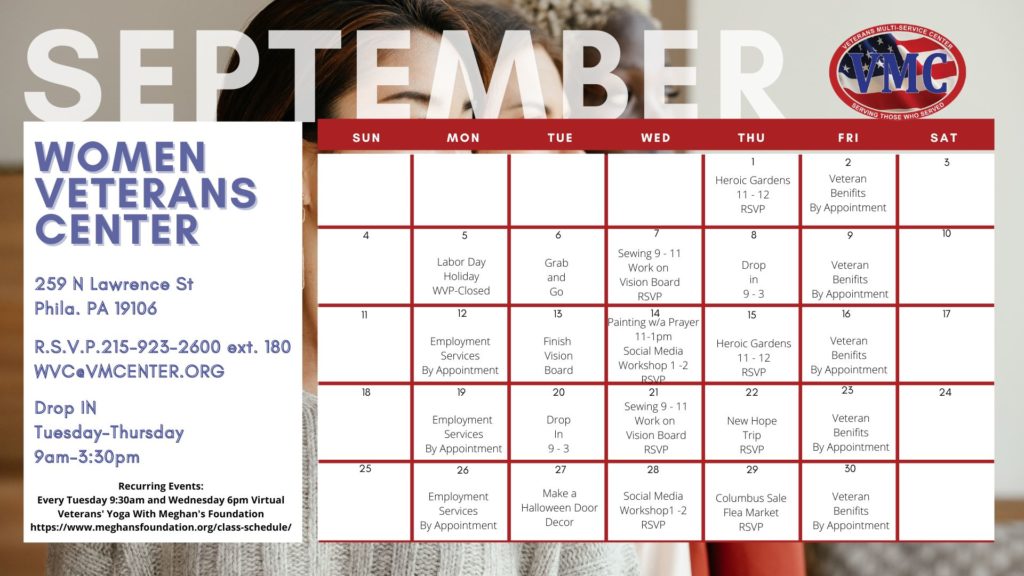 WVC Hours:
Monday: Employment Services By Appointment
Tuesday: 9 am-3:30 pm
Wednesday: 9 am-3:30 pm
Thursday: 9 am-3:30 pm
Friday: Veterans Benefits By Appointment
Contact us at wvc@vmcenter.org or 215-923-2600 ext. 180
---
VA Updates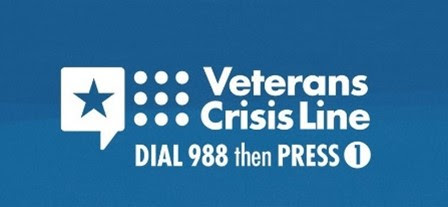 The Veterans Crisis Line now has a new number: Dial 988 then Press 1.
This change is a result of the National Suicide Hotline Designation Act of 2020, which requires all telephone service providers in the U.S. to activate 988 by July 16, 2022 for national suicide prevention support. The transition to a 3-digit number helps make it easier to remember and share the number to access help in times of need. After activation, Veterans will still be able to call 1-800-273-8255 and Press 1 to reach responders in addition to using Dial 988 then Press 1.
---
Two Programs from Eternal Soldier

---
Check in to your next VA appointment with just a tap on your phone screen!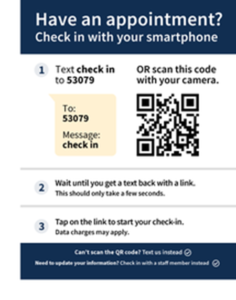 Seven days before your scheduled appointment, we'll send you a pre-check-in text message to remind you about the appointment. You'll be asked to confirm if you plan on attending and to verify your contact information we have on file. To use pre-check-in, you must accept VEText appointment reminders. If you previously opted out, text START to 53079.
When you arrive in the clinic area on the day of your appointment:
Locate the mobile check-in poster and scan the QR code with your smartphone or text "check in" to 53079. Click send.*Tap on the link sent to you. Enter your last name and the last 4 digits of social security number. Check in to your appointment. Press the blue "Check-in now" button. You may be asked to review your contact information, emergency contact, and next-of-kin. If correct press "yes" to confirm. If you answer "no" to any of these questions, you must check in with a staff member. After you've finished mobile check-in, you're all set, have a seat in the waiting area and a VA staff member will come to get you.

You are not required to use mobile check-in. If you don't have a smartphone or have network or WIFI connection problems, you'll always have the option to check in at the clinic in person with a staff member. Check-in is the same whether you complete the process on your smartphone or with a staff member.

Access to Care Website Launched
Based on Veteran feedback and VA Secretary Denis McDonough's commitment to ensuring timely access to care, the Department of Veterans Affairs launched an improved Access to Care website that now offers a simplified, user-friendly experience to make it easier for Veterans to make informed decisions as they plan their health care appointments.

Effective July 19, Veterans and the public will be able to see Veteran experience information for care delivered through VA facilities and will have a clearer view of average wait times, with more detailed information on available health care services and specialties.

"VA is listening to Veterans, incorporating their feedback, and reviewing access to care across the organization," said Deputy Under Secretary for Health, Performing the Delegable Duties of the Under Secretary for Health Steven L. Lieberman, M.D. "As a national leader in health care access and transparency, this change in the presentation of Veteran-facing information ensures Veterans receive the world-class care they have earned and deserve."

The new Access to Care website also ensures that as VA sites transition to a new electronic health record management system, Veterans will have information on timeliness for care at those facilities.

Link to the press release.
Access to Care Website 6 Essential Questions Final.pdf

Please share this information with your networks! We look forward to seeing you at your next appointment!
---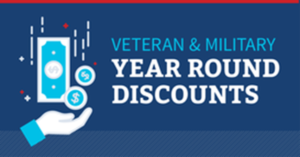 Armed Forces Gear 10% off eligible items online with Troop ID. Available for active duty, Veterans, Reservists, National Guard, retirees, spouses, and dependents. Sunglass Hut 15% off discount.
Fire Department Coffee 15% discount for life using discount code "MIL15". VIEW ALL DISCOUNTS
---
Tips & Resources for Your Health
Aging & Muscle Loss – As you age, your body goes through many changes. Keeping your muscles healthy will help you continue doing the things you love.
---
Refill Prescriptions from Your Phone – VA's RX Refill app helps manage your VA prescriptions on your mobile device. See how you can scan the label, track delivery, and access medication information. Learn more.
---
Protect Yourself from the Flu  – The flu shot is your best defense against the flu. Are you eligible for a no-cost flu shot? Learn more.
---
Pain? Try Yoga! – Yoga can help with pain. Try this six yoga poses to relieve pain and stiffness. Watch now.
---
Dining out with Diabetes – If you have diabetes, planning and smart choices can help you enjoy food away from home. Learn more.
---
Anxiety After Brain Injury – If you've had a Traumatic Brain Injury (TBI) and feel anxious from time to time, it's good to talk to your doctor. You're not alone. We can help. Learn more.
---
Achieve Your Healthy Weight – There's no perfect weight for everyone. But there's a weight that's healthiest for you. Try these 5 habits to improve your well-being. Learn more.
---
Save Your HealtheLiving Assessment – The HealtheLiving Assessment on My HealtheVet is going away. Be sure to save your assessments before September 30, 2022. We have other resources to help you with healthy choices. Learn more.
---
The way you sign in to My HealtheVet is changing. The first time you sign in, you'll need your User ID, password, and your own unique email address. Try now.